Don't Believe Us Just Read
Here you have a sample of the reviews and kudos we got over the years – and we keep 'em coming. Tell us how KuKu you were!
year ago
Rented an AB van in May for 2 weeks from Kuku. We had THE BEST TIME! The price was incredibly affordable and the customer service was outstanding. They gave us food recommendations, a list of dispersed camping, and even picked us up from the train station. HIGHLY recommend them if you are looking to travel around Colorado. We even took ours to Utah. The best part is, you have unlimited mileage so you don't even have to worry about where you are going. Can't wait to come back and rent from them again. Thank you, Kuku!!
-Cass and Joe

3 years ago
We had an excellent experience! Our camper was a great value -- very clean and well equipped. It was great to be able to just stop and camp at some of the most beautiful scenery in the world. The staff was always super helpful and friendly. If you're going to take a trip around Colorado and other States then do it in a KuKu camper van!

3 years ago
Recently rented the class B camper van to drive down to Tucson, AZ. Everything worked really well, having a sink, stove, and heater was a plus. We were able to fit everyone and all of our camping stuff, making the weekend really stress free and enjoyable. Will definitely be renting from KuKu Campers again!

2 years ago
I booked one of the smaller vans for myself for a three week snowboarding road trip and couldn't be happier with my decision. Of course the next size up would have been nice in winter but honestly, for the price the little van is unmatched. It has all of the features you need, is in great condition and the size makes it easy not just for the highway but also makes anything from the trips to the store to winding up the valleys to the ski hills a breeze - not to mention it makes sneaky o'night stays in restricted places possible where larger vehicles would give the games away (just opt for one of the more subdued paint schemes!). To top it of, the staff were incredibly helpful and really did offer next level service and were just really pleasant to deal with. Personally I also love the fact that you are dealing with a owner operated business rather than a corporate beast - you really get the impression that your business matters and that they want you to have a positive experience not ju

2 years ago
We thoroughly enjoyed our time in Denver and surrounding national parks using our KuKu camper van. The camper was top notch the folks at KuKu camper we're just so helpful in making our vacation one we will never forget. The camper was easy to drive and it was a great resting spot after a day of hiking before we headed out to our next adventure. thank you so much and we will be back again.

2 years ago
Perfect for our Colorado adventure - employees are friendly and professional, prices are fair, van was clean, and it was a great way to explore the area. I highly recommend Kuku Campers for anyone who wants to experience an epic road trip.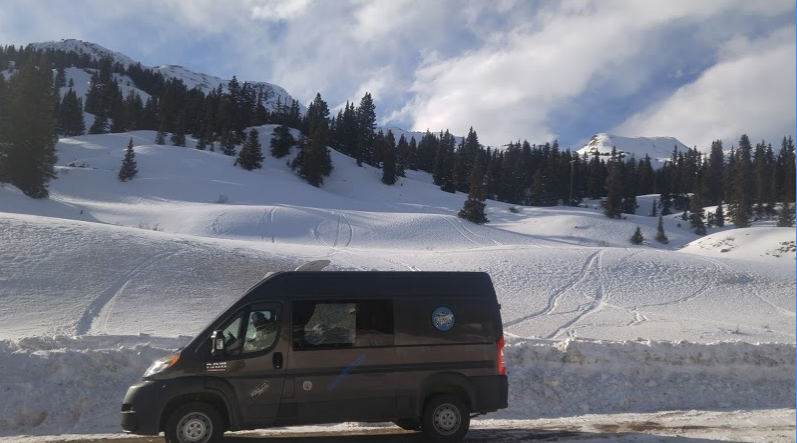 3 years ago
Incredible week touring around the mtns in the Van on a back country ski trip. Super comfy for 2 people in the middle of winter (-5F).

Defiantly much better service than you would ever get from one of the bigger companies. I realise afterwards that they stayed open for a few hours waiting for my flight so I could pick up a day earlier. They also waved excess miles on their own accord. Will 100% use again next time we hit up the San Juan's

3 years ago
Made our 6 day excursion so awesome. Was everything we could ask for. We were able to access all the gems in Colorado and then camp there! It was awesome! Highly recommended, Magnus the man to talk to is a great guy as well. Enjoy!

2 years ago
Great staff! Friendly, helpful. We rented the B camper for the 2 of us retirees. Plenty or room and storage for a 3 night adventure. Nice not to be in a tent, especially since it was cold and rainy the first 36 hours. The heater works great!