Don't hesitate to contact us for more trip and campervan information. We are always available to answer any questions concerning Kuku Campers rental services, pricing, and more.
Phone: +1 855 250 5858
Amazing that our phone number is +1 855 250 KUKU.....We still can't believe it!
Email: bookings@kukucampers.com
Facebook: facebook.com/kukucampers
If you are outside the US you might want to call this number instead: +1 720 323 7049
Our office US camper van office: 3768 Norwood Dr. unit E, Highlands Ranch, Colorado 80125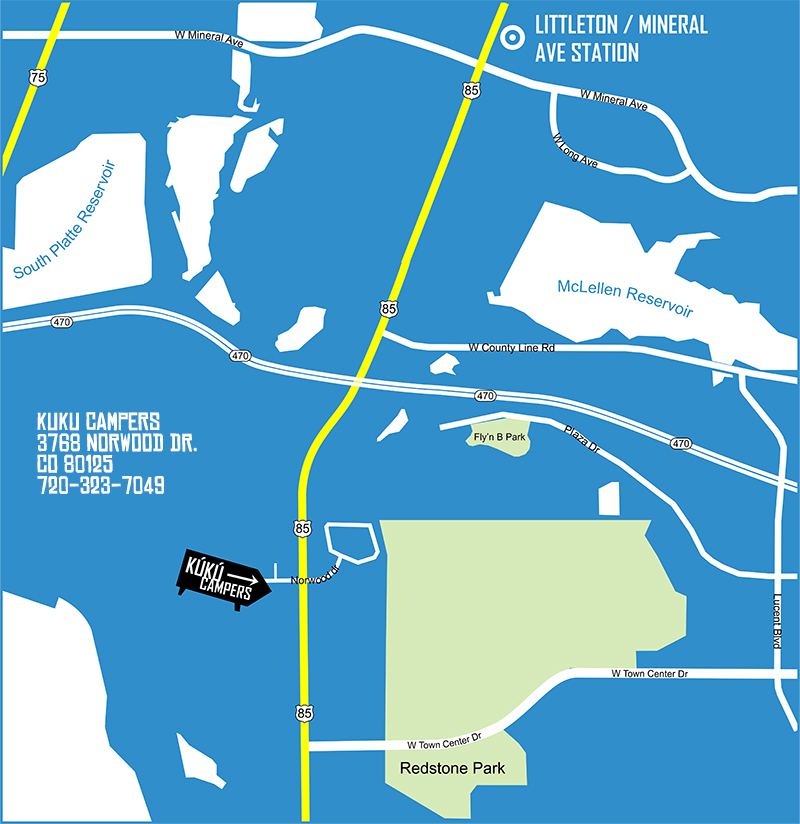 We are at located in Southwest Denver in the base of the Rocky Mountains.
It takes you approximately 40 minutes to get to our location from Denver International Airport by car.
We can suggest some good options for you to get to our location:
The cheapest way here is to take the train. It's $9 per person. Just hop on the train at the airport, take line A to Union Station. When you get out of the train, turn to your right, and head to 16th Street Mall. There you can either take a Free Mall Ride to 16th St/Stout Station where you hop on the C or D line to take you to the Littleton / Mineral Station. We can pick you up from there - just remember to let us know when. Instead of taking the Free Mall Ride you can easily walk to the 16th St/Stout Station and enjoy the down town spirit. On Saturdays you can even get a free hug on the corner of Arapahoe and 16th St.
A slightly faster, slightly more expensive option, is to use Uber or Lyft service.
We can also pick you up or drop you off at Denver International Airport or a nearby location for an additional fee. Please note that our airport pick up and drop offs are only available on weekdays. We are unable to provide this service on weekends.
Opening hours: 9:00 – 5:00 on weekdays and 10:00 - 4:00 during weekends.