Top Campgrounds to Take Your Kuku Wheels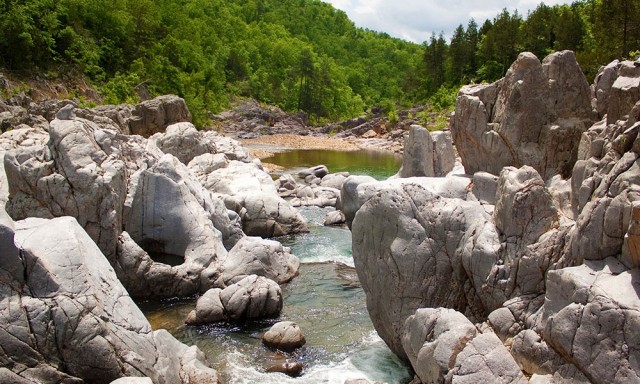 Top USA Campgrounds to Take Your Kuku Wheels
The wide open road. Not just a pretty mental picture, but an actual possibility with the power of campervans!
The mid-west of America is the perfect place for an unwritten adventure. There are long stretches of land where it is just you and the natural beautiful of North America, and charming towns to stumble upon on the way. Campervans offer up the perfect opportunity to truly go where the wind blows you. But if you want to be blown in the right direction, check out this list of the best places in the mid-west to take your Kuku Camper Van:
Devil's Lake State Park, Wisconsin
One of the most stunning displays of color and nature, the Devil's Lake State Park is, ironically, heavenly! Here you can choose from any number of trails and paths and partake in a wide variety of outdoor activities. Everything from hiking, biking, rock-climbing, bird watching, swimming and so much more. Here at the Devil's Lake State Park, visitors have three options for campgrounds. As a general rule, they are first come, first serve so be sure to get in on the action early! Try going in the offseason if you are looking for a little bit of solitude, and during the summer to meet fellow campervan travelers!
Pictured Rocks National Lakeshore, Michigan
Not just one of the most popular spots in the mid-west, but in the country! Pictured Rocks National Lakeshore is an ethereal wonderland with a stunning shoreline, and a thick, rich forest. The cliffs are even set in vibrant, alluring colors and there are numerous trails that will take you to the best look out points in the state! There are three separate campgrounds available for parking. However, be sure to check your measurements online, because some of these parks here are known for being relatively narrow and unaccommodating of bigger rigs. Most campervans fit the bill, but just to be sure look online!
Grand Marais RV Park and Campground, Minnesota
The perfect place to stop during your adventure! This isn't a national park, but rather a full campground. This is one place you can get some amenities at. There are some rigs with the full hookup and others that that just offer electricity and water. And with over 300 sites, there is plenty of space for everyone! It is settled right on Lake Superior, so along with the fantastic place to lay your head you get a place with some pretty memorable views.
Badlands, South Dakota
Badlands never looked so good! Here in South Dakota, you can find some of the richest fossil beds known to the world. It is a national park teeming with life, and so much to explore. There are diverging trails, and gorgeous look out points as well as two full access campgrounds. Both are open all year so you can visit this iconic spot any time! It is perfect for campervan traveling as it takes you to a sight incredibly different than some of the other options in the Mid-west.
Sleeping Bear Dunes National Lakeshore, Michigan
Visit the rich dunes of Michigan! Here at Sleeping Bear National Lakeshore you can walk amongst a site that was even popular during the Ice Age! This is a historic and naturally lovely area for any kind of explorer. If you are looking to relax, then lay down on the calming beach and listen to the rolling waves. If you're a thrill seeker, check out any of the paths that will take you from dunes, to valleys, to the charming lake! The shoreline is an incredible sight to see, and makes for an essential mid-west stop. The campgrounds here are perfect for campervans as you enjoy a peaceful night under the stars.
Hocking Hills State Park, Ohio
This site rocks! Both literally and metaphorically, this Ohio State Park is an absolute must see on any trip around the mid-west. It has numerous caves, waterfalls, and bridges to adventure through. This is a unique destination compared to all the others, although no less beautiful. Here instead of lush forests, you will get to trapeze through sprawling, awe-inspiring rock formations in all their Ohio beauty! There are also plenty of options to stay the night! Be it all access RV Park, parked at a nearby horse ranch, or even by the river! Hocking Hills State Park is one of the best locations in all the mid-west for campervan travelers.
Johnson's Shut-Ins State Park Campground, Missouri
Another great spot to set up camp for the night if you are looking for premiere campgrounds with the full hook up. It is a charming stretch of land that provides everything necessary for a traveler. Not just electricity after what has been a couple of long electricity-less nights, but also incredible hiking paths right at your doorstep. There are babbling brooks, and long winding, shaded paths to be found in Johnson's Shut-Ins State Park. Call ahead to plan out some of the essentials or to find out about availability and enjoy your stay in one of the mid-west's most beautiful stops!
Gooseberry Falls State Park, Minnesota
One can never see too many waterfalls! But you can see one of the most beautiful! Here in Minnesota, you can visit and stay at an iconic natural phenomenon for cheap! Gooseberry Falls State Park is also a great place to meet a few fellow travelers and pick up some helpful campervan tips along the way! There are even more than 50 slips for RVs and campervans all of which require reservations online. This is great because now you have a guarantee of a place to park for the night. Where other parks are first come first serve and therefore have to turn away travelers at the door, at Gooseberry you are driving with a goal in mind! And after you reserve you can sit back, relax, and dream about the fantastic adventure awaiting you! Be sure to book early to confirm your spot! Happy trails!