The Hotel on Wheels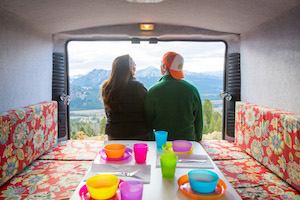 The Hotel on Wheels
To tent-it, or not to tent-it
We get it - the idea of camping out on a warm beautiful summer night under the clear starry sky sounds appealing, maybe because we've seen so many movies of people doing it.
What's not to like? The smell of natures crisp night air, the sound of the nearby creek flowing calmly, and the crackling campfire nearby proving comfort and warmth. All is fine and well when sleeping outdoors.
Until it starts raining.
Or snowing (it's Colorado - anything could happen).
Or until you hear the sound of rustling bushes and snapping twigs close by and you realize you probably didn't dispose of your leftover food scraps so wild animals wouldn't invade our camp. Now you're wondering if your tent is strong enough to keep you safe from a hungry bear looking for a midnight snack.
Camping is more than where you sleep at night
Here's the thing though - camping isn't about how rough your night of sleep is. The idea that you must be sleeping on the cold hard ground in a non-ventilated tent with just your sleeping bag and pillow is rubbish.
Camping is about experiencing nature and all it has to offer the way YOU want to experience it.
Our Kuku camper vans allow us to bring people and the mountains together in easier and more comfortable ways.
With Kuku Camper Vans, 'Anywhere' is now a reality
Our camper vans allow people to test their limits on the road and experience freedom outdoors. And not just camping in the mountains either - our vans allow them to do the things they want to do with their crazy friends, like seeing their favorite bands in concert on the beach somewhere on the west coast.
We've had some customers travel to California to be apart of a concert, and then spent an extra day sightseeing and visiting all the shops and tourist attractions. It's not hard to do what you want when you can up and leave at a moment's notice with your sleeping quarters with you!
When traveling in a camper van, our customers have had the freedom to camp more daringly. For example, it's difficult to tent-camp in the colder months. When the night temperatures fall below zero, you don't want to be freezing all night in a tent, but you do want to be comfortable and warm in an inclosed van with heating. Camping during the colder months when there are less people traveling is a great option both for finding campground availability and cheaper, off-season pricing. With our Kuku camper van, it's actually possible to do!
Enjoy the indoors as much as you do the outdoors
The great thing about our camper vans is that they're not just designed for a comfortable night's sleep. They include several amenities that you won't find tent-camping. One of our favorite amenities is the ability to cook your favorite delicious foods using our kitchens that come fully equipped with everything you need.
Fold out a spacious table inside the van where you can chop up fresh peppers, onions and tomatoes and fry them using our awesome single gas burner stoves. You'll have room to stir up some eggs, and even shred some fresh cheddar into the mix to create a magnificent breakfast omelet, all in the comforts of your van! Our coolers make it easy to keep your orange juice chilled just right to go with your breakfast of champions.
Of course, starting a campfire and cooking your eggs on the grill can be fun too. At the end of the day, it boils down to what your preferences are. But if your preference is cooking inside a kitchen, we won't disappoint you!
Camper vans are what bring people together
Our Kuku camper vans are also an amazing way to bring you and your friends together. Can you imagine cruising down the highway with a few of your besties, everyone singing their hearts out, catching up on life, excitedly planning out what they can't wait to do on this excursion?
Our largest camper van can easily sleep between 3-5 people, so your friends don't have to bring a tent or sleep on the picnic table. Plus with our large lounge seating area for the day time, there's plenty of opportunity and room for
everyone to chill inside if the weather is acting up. Don't forget to have someone bring cards for a friendly game of poker, or Settlers of Catan for a 4-player game of strategy!
Go anywhere, do anything
The amount of things to do is just as limitless as the place to go. One couple that recently rented a Kuku camper van from us were able to accomplish their bucket list of activities within a few days.
They had always wanted to experience the heart of the rocky mountains by touring Rocky Mountain National Park, but they didn't want to just drive it - they wanted to bike it! So they loaded up their bike rack and spent the day sightseeing and soaking in the outdoor beauty.
The next day their goal was to hike a 14er, and so before the dawn even broke, they were up and hiking Longs Peak, one of the many 14ers in Colorado.
Lastly before their trip came to an end, they got to do some relaxing kayaking on the lake. Thanks to our spacious van capacity, they were able to bring a foldable kayak that was easy to store in the van. Needless to say, their weekend of camping was a huge success!
Get behind the wheel of a Kuku camper this Summer!
Finding the right camper van for your next excursion is easy, and we have plenty to choose from. If it's just you and one other person than the Class AB van would be a perfect fit, where as if you have a larger group of 3-5 people going with you, the Class C van has much more room, but isn't to big that it's intimidating to drive through the mountains.
Whatever you need to make your next camping or road trip successful, we've got it for you!