The 5 best lakes in Colorado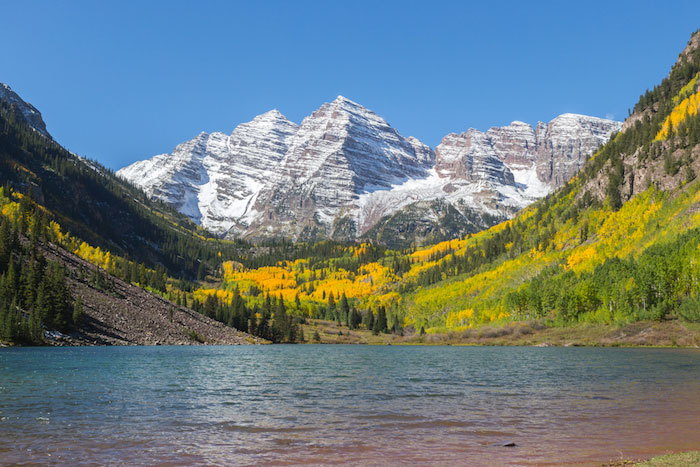 It's truly awesome to live where I do here in Colorado. Here in the Denver area, my backyard is the Rocky Mountains with all the adventure they offer. One of the things I love most about Colorado is the vast mountain lakes that speckle the range. A few are out of the way of the main road and require a brisk hike (which is just a bonus in my opinion) while others you can drive right up to in your KuKu camper.
With much sunshine, now's a great time to grab your camera, pack a cooler and backpack and take one of our KuKu Vans up to visit some of the most stunning lakes and reservoirs within hours of each other.
Here's our list of the best lakes in Colorado to visit:
1.  Lake San Cristobal
Located right outside of Lake City Colorado, the lake looks like a layer of glass reflecting the bright colors of the surrounding mountains. If you're wanting to do some fishing, the lake is stocked with trout. You can also rent boats like canoes, kayaks and fishing boats in Lake City. And of course, they have campgrounds that will accommodate your KuKu camper and offers water, trash removal, vault toilets, picnic tables, grills and fire grates. The only downside is they don't have electricity, so go easy on your electronics.
2. Monarch Lake
Just two hours west of Denver and located south of Rocky Mountain National Park, the lake is surrounded by lush green meadows, mountain terrain and wildlife. This will require a brisk hike from Monarch trail head where you will park. The hike is a few miles, so be sure to bring bottled water and snacks.
3. Green Mountain Reservoir
Although manmade and less secluded, if you're looking for a great place to have all your friends gather for a weekend of fun, Green Mountain Reservoir is the place to be.
The reservoir is surrounded with camp sites, cabins for rent, and RV hookups for you KuKu camper, and includes a list of activities to do, including fishing, hiking, swimming and camp fires with your friends.
4. Crater Lake
Probably one of Colorado's most notable lakes for its mirror waters and the Maroon Bell peaks that rise majestically in the background, Crater Lake is a coveted scenic destination by hikers, outdoor enthusiasts and photographers from all over the world, and for good reason. From the blanket of gorgeous aspen trees and pines that surround the lake to the plentiful wildlife you'll see, such as moose, fox, elk and bears, you too will see why its beauty draws so many seekers to its banks.
5. Steam Boat Lake
About 45 minutes north of the town Steam Boat Springs, Steam Boat is hidden jewel and offers campgrounds, cabins and RV parking, as well as snow skiing and snowboarding. It provides awesome opportunities for jet skiing, boating and canoeing and other on-the-water activities like fishing during the summer, and ice fishing when the lake freezes over during the winter!