Best Places to Visit in Utah This Year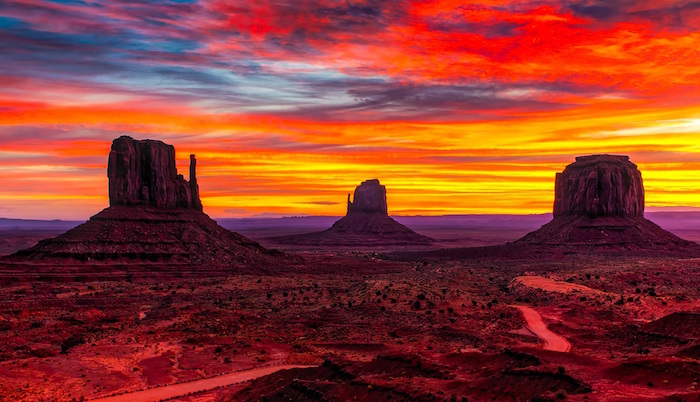 Top Places in Utah Where You Should Visit
We were talking to one couple recently about how they've traveled everywhere within the state and were planning a road trip to Utah for a change in scenery.
Though in our opinion it doesn't quite compare to where we live now, Utah has some incredible places to visit that you've got to check out. So, hook yourself up with a KuKu Camper and check out the top places to visit in Utah this year!
Tour the magnificent towers of ice where you can explore tunnels and slide down the slide of ice as you snap pictures of over 25 million tons of ice cycles. Located just a 30-minute drive from Park city, it is no less than a winter wonderland that provides magical experience at every icy corner.
One of the most exotic and breathtaking rock formations in the world, Bryce canyon not only offers incredible views of the crystal shaped rocks but offers opportunities for hiking and wall climbing. Checkout the campground nearby that offers full hookups for water, sewer and electricity as well as restrooms and hot showers! It is one of the best tourist attractions because of the variety of experiences in different weather conditions. From snow seeing and cross-country skiing to horseback riding and hiking in summers, this place is a treat for people who are looking for adventure.
One of North America's most toured national park, this place will have you wondering "how the heck do those rocks do that?" Great places to take some selfies (don't climb on the arches or they could break!) and you can park your KuKu Camper about 18 miles down at Devils Garden Campground. This national park has the most significant number of Arches in the world. Over 1 million tourists visit this popular tourist destination every year to see 2000-plus natural arches. It has the best spots for canyoneering, hiking and rock climbing etc. 
The largest body of water between Lake Michigan and the Pacific, the Great Salt Lake is popular for sailing, swimming and camping. To access the lake, we recommend entering by Antelope Island State Park, which includes white sandy beaches, a visitor center and campground. Though Salt Lake City is home to sports and museums, it does not disappoint people looking to see some natural wonders. You can see some of the best national parks and ski resorts in Salt Lake. 
Known as the Caribbean of the Northwest, this sparkling lake is the perfect place to cool off in the Summer. You can rent just about anything from canoes, jet skis and four-wheelers to drive through the mountains. The crystal blue lake also includes campgrounds, some offering full water, electric and sewer hookups.
6. Zion National Park
Zion national park is the state's first national park. Just a three-hour drive from Las Vegas, this park features waterfalls, stunning vistas, red rock cliffs, etc. 
One of the most popular spots in the valley is Zion Canyon, and it is a paradise for hikers because of its vertical tilt. You can do cliff-side trails, and one of the most famous trails is the angel's landing trail. 
Also, there are trails on 2000-foot-tall sandstone cliffs that are stretched to 90 miles. The place has a variety of campgrounds to chill out as well. 
But with that being said, let us remind you that these adventures can negatively impact acrophobic people, and they are ill-advised for the faint-hearted. 
7. Grand Staircase Escalante
The Grand Staircase Escalante National Monument is stretched on 1.9 million acres, and it is arguably one of the most prominent national monuments in the United States. 
If you are photogenic then, this place has a lot to offer. From rugged terrains, arches, and waterfalls to canyons, scrubland and forests, this place is full of scenic masterpieces. 
With many hoodoos around, this place is perfectly suitable for hikers.
Moreover, if you have some history buff in your group who are looking for the remains of some 100-year-old civilization, it has a town called Paria located on the bank of the Paria River. 
There are some beautiful campgrounds in GSE too. 
8. Capitol Reef National Park
The visitor's center of Capitol reef national park is just a 15-minute drive from the town of Torrey.
It has gigantic rock spires, arches and cliff walls complemented by beautiful gorges and canyons, making it a treat for photogenic people.
You will get to see the banded sandstone wall near the Fremont River. Also, there are many hiking trails too. 
However, the noticeable thing here is that not many tourists come here, unlike other national parks in Utah. 
But it is a great place to set up your camp and enjoy with your friends and family. 
9. Canyonland National Park
Canyonland National Park is segregated into four parts, one of which to note is the Island of the Sky. 
It is located 1,000 feet above the ground and is considered America's Grand Canyon because it has carved canyons and snow-capped mountains.
Moreover, in the Needles region, you can see historic camps, rock art and sandstones. Hikers have a lot of exploring in Canyonland, along with photo buffs. 
But, ensure that you have prior experience in hiking before opting for such steep cliffs. 
10. Natural Bridges National Monument
If you haven't seen a natural bridge before, then look no further than this place. It has three bridges, namely Owachomo, Kachina and Sipapu. 
In case if you are looking to visit only one of them, we recommend you to see the biggest one, Sipapu. 
It is a 1.2-mile round-trip hike and has an impressive view. You have to go through steep areas and walk up a few ladders, making it the most adventurous of the three. 
On the other hand, Kachina and Owachomo are 1.5 mile and 0.5-mile round hiking trips, respectively. 
Moreover, if you love history then, you can find Horsecollar Ruins of native Americans near the monument that are 700 years old.