7 Steps To Hiking Your First 14ER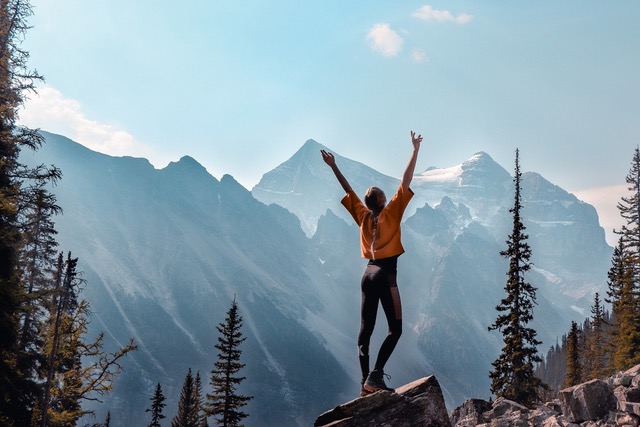 14er's can be intimidating. They are the tallest point on the horizon in any given direction. To hike even one is a huge accomplishment. Here's some good news: There are some amazing 14ers that can be done as a beginner, and we are full of tips and tricks to get you started.
Pick the Right Mountain
Before you lose sleep over hiking a 14er, you should know that even families and children hike some of them. The most important thing is hiking one with an easy rating. If you go to 14er.com, you will find each of the mountains listed by diculty. Don't take on any technical hikes for your first few. For instance, Mt. Bierstadt is great because it has a gentle elevation gain and is closer to Denver.
Train So You Are Prepared
Start going on hikes a few weeks before your trip to the mountains. Take a day pack that has what you will bring to the 14er in it, so the weight isn't such a surprise when you go for real. We recommend hiking over other exercises because it will help your body adapt to that specific kind of activity. If hiking isn't available near where you live, we also suggest swimming. Swimming is an excellent way to build up your lung capacity for later.
Bring Important Gear and Clothing
Food, water, a first aid kit, sunscreen, and a jacket are each essential to a day in the mountains. A headlamp, trekking poles, and extra clothes will help you too. By hiking with that gear, you will set yourself up for success.
Prepare for it to be colder at higher elevation. Even during the summer you may find a hat, gloves, and windbreaker are essentials. Not only that, but closed toe hiking shoes that fit you well personally are very important. It doesn't matter that they are hiking boots or trail running shoes, but it does matter that they fit you.
Acclimate to Elevation
Remember, you will be starting at around 8,000-9,000 feet above sea level, then summiting at around 14,000 feet. Whether you fly or drive to Colorado, the climate is going to surprise you. The
air is more dry, the sun is more intense, and even hiking upstairs makes your breathing labored.
When you reach the base of the 14er, or the approach, camp out for three to four days. Starting your hike too soon means you could get altitude sickness.
Altitude Sickness
Everyone reacts to altitude dierently. Dizziness, headaches and nausea are only three of the most common symptoms. These can also mean you are just really dehydrated.
Hydrate hydrate hydrate, and if you still feel sick after, descend. Hike down and make the climb another day. Taking even an extra day to let your body adjust can save the whole trip.
Avoid Afternoon Thunderstorms
Every day around 1 or 2 pm a thunderstorm rolls in during the summer season. Being above elevation at that time is a terrible idea. The best thing to do is start hiking by 8:30 am at the latest and start descending by 11:30 am. Even if there weren't weather complications, getting an early start means you might get the peak all to yourself.
Pick a mountain that is rated as "easy". Above all things, don't stray from the path. Too many hikers get hurt or worse by doing that on a 14er. If you go alone, picking an easier mountain is especially cool because you can meet more hikers on trail. The more populated a trail is, the safer. And remember, get o the summit by 11:30 am. You don't want to get caught in a summer storm.
Want to make your 14er trip an overnight experience?
Instead of worrying about getting back before dark, do what everyone does and rent a Kuku Camper. Find a nearby campground and stay the night (view our other blog article on local Colorado campgrounds here)
If you've never stayed in one of our Kuku Vans, we forgive you. You can view all the dierent vans and features by clicking this link here.