5 ways to get wet this Summer!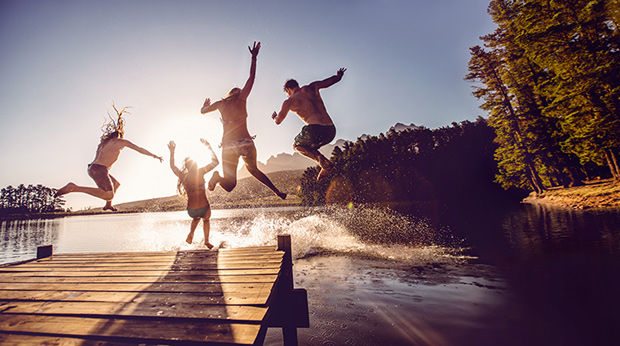 5 ways to get wet this Summer!
Nothing yells summer more than a big splash! Here at Kuku Campers we are getting our swimwear on as we head to some of Colorado's most popular outdoor water destinations.
In this blog article, we'll share some of our favorite places to splash, from swimming to boating!
White Water Rafting at Royal Gorge
The Royal George has several white water rafting options to accommodate you and your friends! We recommend River Runners. They over great pricing options for groups, and can accommodate for just about everything, from white water rafting, kayaking and more.
Many of their packages include everything from beginner level to experienced, individual pricing and group pricing, and they even offer multi-day pricing options for the rafting enthusiast who would like to come back multiple times throughout the Summer!
Rafting packages for all level types
For the Summer of 2019, there has never been a more perfect time for white water rafting than now. With the state enjoying non-drought season for the first time in years, the river rapids are going to be more aggressive (for you more experienced rafters, or for you beginners who's saying "bring it on!").
According to River Runner's website, thanks to the increase in mountain snow falls and rain, the water levels are 6.6 feet over the average line - meaning: you're in for one crazy ride down the Arkansas River!
White water rafting booking online
To get the boat rowing for your next rafting adventure, ​visit River Runner's website here. All trips do require booking in advance and require you and your party to arrive at least an hour before your actual start time.
Swimming at Boulder Reservoir
If you're looking for an opportunity to put your new swimsuit outfit into action, the beaches at Boulder Reservoir is the place to do it!
Grab our favorite inner tube, goggles, beach towels and sun tanning lotion, and head to the Boulder Reservoir to get your splash on!
The reservoir includes amenities such as a full beach - where you can relax for a little bit - concession stands that serve food and drink, public restrooms and showers, and supply rental if you would like to rent an innertube!
Oh - and did we mention swimming??
The reservoir boasts one of the largest swimming bodies of water in Colorado, with roped off sections designed for intermediate swimmers and sections for those who are more experienced swimmers.
On a side note, the reservoir also offers camping as well, meaning you can take your Kuku Camper van up for the weekend with a few friends, and after a day of swimming fun, can relax around a campfire and do some early morning hiking the next day!
Learn to boat at Clear Creek White Water Park
If you're new to Colorado and have never done any boating before, you may be a little nervous about giving it a try. Clear Creek White Water Park offers a variety of courses for new boaters to take and is conveniently located right in our own backyard in the city of Golden.
According to their website, "The Innovative recreational experience is divided into sections. The course is 800 feet in length, built with natural boulders and divided into sections. The top is a series of drops and pools of different experience levels and has some fast eddies. The middle portion consists of flat, broad, shallow surf waves with huge random boulders – a prime workplace for gates. The bottom section entertains paddlers with more extreme surf and wave drops.
The class of this course will require paddlers proficient on fast moving, cold water, particularly during high flow season. There are no fees for drop-in usage and the course is unsupervised. Parking is located at Lions Park, the ball fields and adjacent
areas. Vanover Park is also available for parking and provides a take-out site for those continuing downstream after maneuvering the course.
The Golden Parks and Recreation Department also offers lessons at the indoor pool for those that would like to safely learn this unique water sport.
In 2002 six additional drop structures were constructed. These structures provide a great recreational opportunity for white water access. They are located downstream from the competitive course behind City Hall and on either side of the Washington Avenue Bridge. With this expansion, Golden now provides 7 city blocks of White water activity on Clear Creek.'
Source: ​Clear Creek White Water Park
Go kayaking at 11 mile lake
11 Mile Lake is one of Colorado's larger and most popular mountains lakes, and is a favorite among fishermen, as the waters team with many types of fish.
If you don't own a kayak, no worries. The 11 Mile Marina offers all types of boat rentals for you to take advantage of, including kayaking.
If you and your friends want to chip in some extra cash, you can also rent a giant Pontoon party boat that holds up to 10 people!
Relax in the Glenwood Hot Springs
Glenwood hot springs offers the largest mountain heated pools and spa to swim and relax in. According to their website: For over 130 years, visitors coming to Glenwood Hot Springs Resort for the day... have helped build a strong family resort tradition. Our Historic Glenwood Springs setting, between Aspen and Vail, provides an atmosphere for cherished memories. The soothing mineral waters of the world's largest hot springs pool are a great start..."
If you're needing a place to park your Kuku Camper Van for the night, you can check into the ​Glenwood Springs CampGround​ (not affiliated with the hot springs) where you can find affordable camping that includes electricity and public restrooms.
Ready to book a Kuku Camper Van? Visit our ​booking page​. Or if you have any questions about our rates or camper vans, please feel free to let us know - we're happy to assist you!