5 Colorado Ghost Towns to Visit!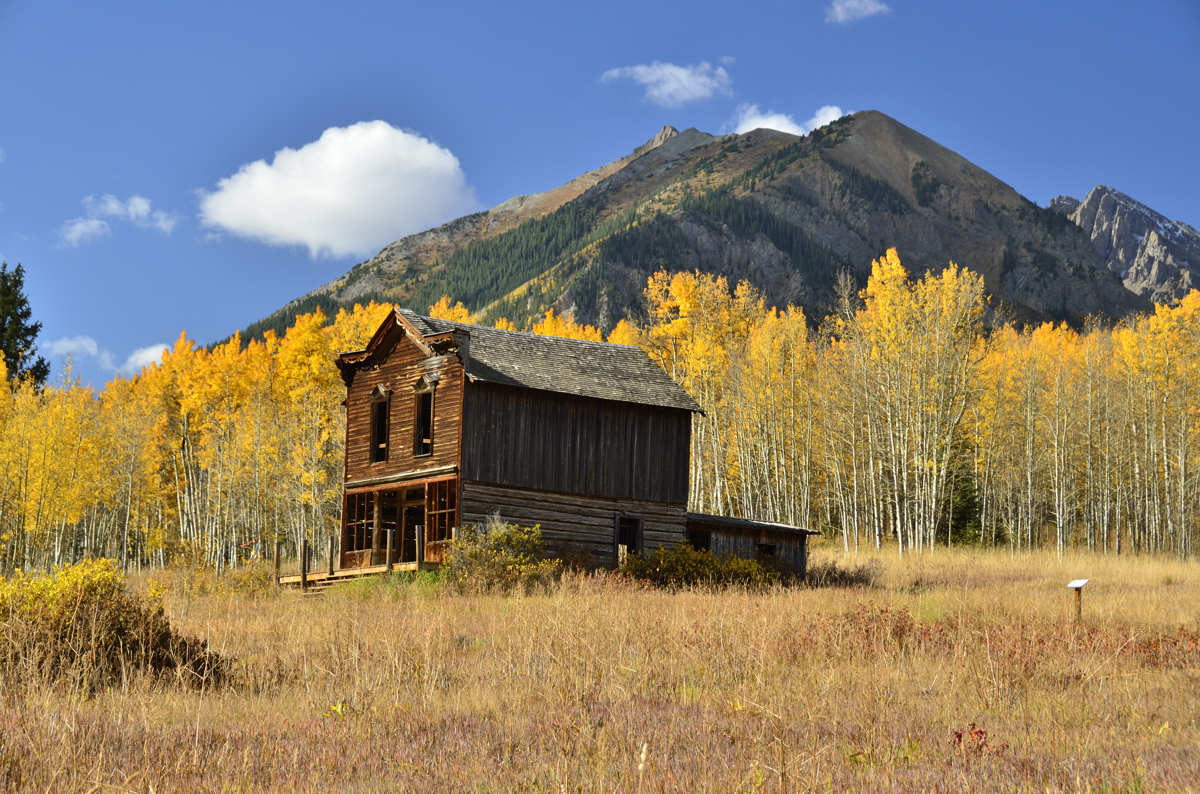 5 Colorado Ghost Towns to Visit!
The ominous sound of ​'Camptown Races'​ plays on an out of tune ragtime piano.
The noise of wagon wheels being drawn by horses can be heard rolling across the dusty road, and saloon doors being swung open as people from a different era come and go. Old prospectors who never found their fortune in gold, now find comfort in a whisky flask, and can be heard retelling their stories of almost striking big - stories that sound like gurgling ramblings to the ears they fall on.
As a gust of wind picks up across the main street blowing the tumble weeds with it, you look up - and all you see are empty buildings. No people. No piano. No drunken prospectors. No saloon - well - not one open for business any way.
As you tour the old shops and store fronts of 130 years, you imagine to yourself "this must have been what it was like back in the day!"
As you walk through the old saloon, you see an old rusty whiskey flask, laying on the saloon table that's nearly falling apart. An old ragtime piano covered in cobwebs sits in the corner of the room. The noise of swinging saloon doors is heard blowing back and forth in the wind, and you wonder to yourself, "or, did I for a moment hear a ghost?"
5 famous ghost towns in Colorado that you must see this Summer!
Ghosts towns in the western states tell the story of an era long ago when gold mining was huge and millions of people from all over traveled to places like California, Colorado and Nevada to get rich quick.
As a result, towns popped up overnight with thousands of residents and were able to sustain themselves with essential services such as schools, saloons, blacksmiths, hotels, doctors office, jail house and more.
But as the golden dream died out, so did these little towns, and just as quickly as people arrived, so people left in droves in order to find work somewhere else, leaving these once booming towns empty and alone.
Today, there are several ghost towns still standing with their abandoned structures for tourists to come see.
If you're the type of person who gets a thrill out of exploring old things and possibly bumping into ghosts (you never know!) then below is a list of the top 5 ghost towns to visit in Colorado!
This little town located on the edge of the great plains near Greely once housed hundreds of African-American people who were former slaves. After the Civil War, many of these people had nowhere to call home, and came together in an effort to start a new life.
However, once the Great Depression hit, the population begin to decrease, and with the Dust Bowl hitting not long after, the town was pretty much done for with the exception of a few families that stayed behind.
2. Animas Forks
Next up is the old doomed ghost town located in the Animas Fork mountains, a place with beautiful slopes that make you think of the Alps - a location one may believe would be the perfect place to settle down.
However, this little mining town experienced terrible avalanches all throughout the year, burying the major travel routes out of the mountains and cutting off food and water supply for the residents.
Why would anyone live here?
Great question!
The town was located next to two gold and silver mines that were in operation until the late 1870's. People were willing to brave the brutal snow as long as long as there was a steady extraction of precious metal.
Would you brave avalanche weather for gold? We would highly discourage you from doing so!
3. St Elmo
Not too far from Buena Vista, this town truly lives up to the persona of your typical ghost town, as it includes wood sidewalks that runs alongside old buildings that once bustled with shoppers and townspeople.
The cool thing about this town is that there are still some structures that are open seasonally, allowing you to meander around and see what life looked like for people a hundred years ago.
4. Tin Cup
Often referred to as the 'Tombstone of Colorado', Tin Cup was once a rowdy town with a few troublemakers who tested their limits with the law. It wasn't uncommon for shootouts to occur between a sheriff with his deputies against a band of outlaws.
Nearby the town, you'll find an old cemetary with names on worn stone heads of those killed - an eerie reminder of what happens to those who try taking the law into their own hands.
We're thinking this is one town we're glad isn't around anymore!
One of Colorado's best hidden ghost towns, the old indian village of Picketwire Canyon near La Junta is an interesting place to visit.
The place was once a habitat for an indian tribe located along the Arkansas River deep into the Picketwire Canyon. The village homed several huts (which have long disintegrated over time) but has a few structures that are still standing - one being an old mission church that spanish missionaries built.
Some interesting facts surrounding the area also include dinosaur tracks along the river bank, as well as what appears to be ancient paleo hebrew dating back nearly 1,500 years. How it ended up in the plains of Colorado, that's a mystery!
Honorable Mentions:
Gilman Colorado - a modern ghost town
Gilman was a mining town that produced both silver, zinc and copper. It was fully functioning until the 1980's when the mines permanently shut down. For nearly 40 years it has been empty of residents, except vandalists who have managed to break pretty much all the windows and glass in town.
The town is still a hot spot for explorers and photographers, and although it hasn't been vacant as long as the other ghost towns, it still carries an eerie, ghostly feeling to it!