4 Secrets to make Camping fun!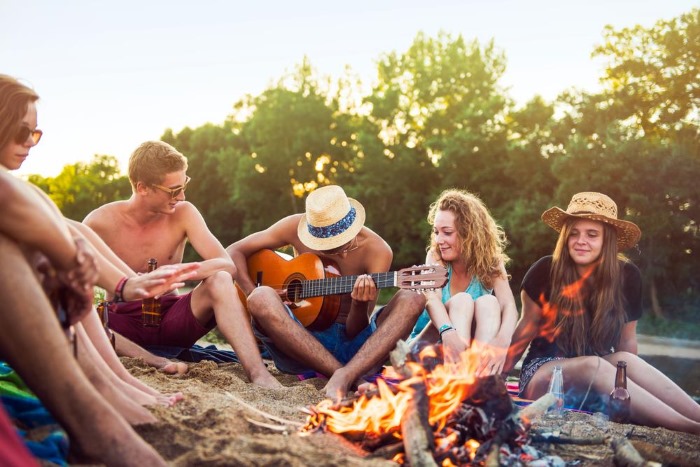 4 Secrets to make Camping fun for your easily bored friends!
Whether you're asking for a friend who hasn't experienced the thrill of camping, or you're asking because camping's new for you and the rumors of sitting around a campfire all day scare your adventurous soul - the question on ​ways to make camping not boring​ is a huge one many people ask, and we're here to the rescue!
If you and your friends are planning an epic camping trip for the summer, make sure you plan for it to be exciting, memorable and worthwhile. The last thing you want is to come home after a weekend of complaining how boring it was without Wifi, showers, and a washing machine.
People go camping for adventure, to be one with nature, to grow with others and find themselves within. Kuku Camper is devoted to making your trip as convenient as possible. With our van at your disposal, you don't have to worry about spending cold nights in a tent.  A warm and comfortable bed awaits you.
 So, let's show you how to make camping fun and exciting - the Kuku Camper way!
4 ways to make your camping adventurous
1. Dress right and bring the best supplies and gear
Right Shoes
We can't tell you how many people go camping wearing a pair of flip flops and that's it. Have you tried hiking in flip flops? OUCH. Flip flops will keep you sitting around the campsite.
Your feet were made for exploring! Bring a comfortable pair of hiking or tennis shoes, and extra socks in case you accidentally step in a puddle, or your prankster friends decide to push you in a stream.
Also, ensure that your shoes are tough enough to withstand uneven surfaces such as sharp rock pieces, swamps and mud etc.
The experience of your camping trip largely depends upon how mobile you are.
Sunglasses and Hats
Sunglasses are essential when you are about to stroll in the forest under the scorching sun. Not only will it protect your eyes, but it also enables you to see clearly. 
Sunstroke is a common problem for campers. So, it is best to protect your head from direct sunlight as it can dehydrate you faster. 
Pro tip: Wear a white-colored cap instead of a black one. The white color reflects heat while the black color absorbs it. 
Extra Hoodie
While the daytime will be hot, bring a hoodie or throw a blanket for the cold evening. When night comes and the campfire is blazing and everyone's singing and having a great time, you don't want to be in your sleeping bag stuck in your tent because you're too cold.
Hoodies can make the nighttime comfortable for you. Your pair of t-shirts may look fantastic on you under the bright sunlight but would be rendered useless during the cold night. So, don't forget to put an extra hoodie in your bag.
Torch
Though it may sound like an unnecessary thing since you have mobile phones with flashes around these days. But it is best to preserve their batteries and let the torch do the work. Torches last long and light up a wide surface area, unlike mobile devices. 
Moreover, they don't dry up as quickly as your mobile's battery will if used as a torch. 
So, a good-old torch is essential for camping activities.
Versatile Backpack
Also bring a good backpack that will allow you to comfortably carry extra bottled water, snacks, and other important things like a facial mask (in case you have seasonal allergies while hiking) , first-aid kit, binoculars, sun tan lotion, selfie stick, and even your phone.
Hiking trips can quickly become boring and unpleasant when you're dehydrated, hungry, and burning up in the sun. Having a backpack that carries the essentials for you will change that!
Moreover, do ensure that the straps of your backpack are sitting comfortably on your shoulders as you'd be carrying it for days. An uneasy backpack filled with essentials is the last thing you want for your camping trip.
2. Plan the course of your trip
You don't have to have every moment nailed. But do have an idea of what your day will look like so no one is left questioning what's next.
One way to make it easier to plan your activities is simply knowing what your campground offers.
Trust us - not taking the time to do this will lead to you and your friends arriving at the campsite asking yourselves, "now what?" skip twiddling the thumbs. Know what your campground offers!
This doesn't have to be hard. Before your trip, just Yelp or google your campground on your phone and see what activities they offer beforehand.
Having an idea of whether your campground offers a frisbee golf course, fishing lake, or even a charcoal grill will allow you to plan your day with more activities.
Only a planned trip can help unfold camping secrets for you. Otherwise, it will be more like strolling clueless in a forest.
3. Integrate activities into contests
We got this idea from one of our customers who uses a Kuku van to camp with their family each Summer.
Interestingly, people who get bored easily are often more entertained when you turn something into a competition. Even if they're not great at the activities, the experience is what matters. Below are some easy contests that your friends and family will love:
Treasure Hunt
The idea behind this is to get the grumpies (typically those who want to sit at camp and be on their phones) to engage in the outdoors.
The idea is to give everyone a list of items to find while on the trail. These items should be somewhat easy to find and bring back to camp (Pine cone, purple flower, bird feather, petrified wood, fire poking stick, etc.). You can also add items like empty bottles and cans to help improve the environment.
After an hour of searching, teams can come back and show off what they've found. Whoever makes it to camp first with all the treasure items, wins!
A treasure hunt can certainly imbibe an adventurous feeling in phone buffs who keep asking, is camping fun? 
Best Poses
Similar to Treasure Hunt, this contest encourages people to engage with nature, however, this one focuses more on hiking, appreciating the natural views and getting some great selfies.
The idea is to have 5-10 poses that each person or team must achieve. Some of the poses could include:
- Three people holding a fourth person with a backdrop of a mountain ravine below
- Your team posing on the bank of a nearby lake
- Everyone jumping the air at once near a creek
- Standing on a river embankment like superheroes.
Just make sure everyone is safe when doing their best poses!
Whichever person or team wins gets rewarded with something like not having to help with cooking dinner, or cleaning up the dishes afterward.
The best part about this activity is that even your bored phone buff mate will enjoy it.
So, have some fun thinking of creative ways to get your bored friends up and active!
4. Don't forget the cool gadgets
You'd be surprised how many awesome outdoor toys there are to help make camping fun and adventurous for everyone! A few fun and wacky toys we like are the following:
Bug-A-Salt Shotgun ​- Who knew you could have fun shooting down pesky flies and mosquitoes? It's totally safe for kids and adults alike and doesn't require batteries.
Folding saw and hatchet​ - These can be fun ways for each person to test their firewood cutting skills! Don't worry- even those who've never held a folding saw can still give a shot at cutting up a kindle, or trying to split a small log in half. The point is to have fun. Just make sure your campground allows you to collect firewood, and that you follow all safety guidelines on cutting tools.
Fire-starter kit ​- Why not make starting a campfire fire a little bit more interesting?
You can practice your survival making skills using a magnifying glass or a magnesium rod starter to strike sparks onto your kindling. (Make sure you follow and obey all current fire warnings and restrictions wherever you are.)
And lastly, load up all your supplies and gear in a Kuku camper van, made with plenty of space so you don't forget a thing. Our Kuku camper vans also allow you to sleep comfortably on a cushioned bed instead of inside a tent on the hard earth, making camping for everyone even more enjoyable!
Checkout our van options today, and start your Kuku camping experience!